Bitcoin Seems To Be losing The Fight Against Inflation: Coin In Red
---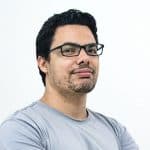 Bitcoin on Monday fell to its lowest level in over a week. This happened as crypto traders continued to digest strong jobs data from Friday. One that pushed risk assets including cryptocurrencies even deeper into the red.
How Is Bitcoin Doing?
The largest cryptocurrency by market cap was down by about 1.3% to $19,213.00, according to Coin Metrics. Earlier in the day it fell as low as $19,116.43. Ether fell about 1%, to $1,307.58, after falling as low as $1,297.07.
"Today there seems to be some jitters and derisking across all markets as we approach Thursday's CPI release." This was said by Riyad Carey, a research analyst at Kaiko.
"Bitcoin is moving closely with equities and I'd expect that to continue. Especially because there haven't been many crypto-specific catalysts in recent weeks. I also expect significant volatility on Thursday, with a move up or down depending on the inflation figure."
Consumer Price Index Vs Bitcoin
On Thursday the Bureau of Labor Statistics will release September's consumer price index. Economists surveyed by Dow Jones expect headline CPI to show a 0.3% monthly increase and an 8.1% annual gain. Investors watch these updates closely for clues about the Federal Reserve's next move in its fight to bring down inflation.
"We believe there is a building narrative that central banks are beginning to make policy errors." This was said by James Butterfill, head of research at CoinShares. He went on to cite Bank of England interventions, and concerns about the Fed dot plot. He also mentioned the timid interest rate rises by the European Central Bank.
"Several of our clients have made the point that they don't want to buy bitcoin right now. However, as soon as the Fed pivots, they will add to positions," he added.
"Key data points to watch out for this week will be the CPI data beat/miss on Wednesday. Also, according to the FOMC minutes, a whiff of dovishness is likely to be supportive for crypto assets."
Despite the anxiety hanging over investors, cryptocurrencies' volatility has been uncharacteristically low in recent weeks. Notwithstanding, its correlation with stocks remains positive.
Bitcoin ended Sunday within the $19,000 level for the fourth Sunday in a row, according to Kaiko. The high volatility regime that the crypto market has endured since its big crash in June could be coming to an end. This is based on hourly returns, the data provider said in a research note on Monday.
BTC, ETH And Paul Tudor
Bitcoin and ether's hourly returns spiked 3% to 5% during the crypto credit crisis. However, it has since reverted to around 1% to 2%, the note said.
Billionaire investor and renowned hedge fund manager Paul Tudor Jones talked about bitcoin and the U.S. economy in an interview. Jones is the founder of asset management firm Tudor Investment Corp. According to Forbes, his current net worth is $7.5 billion.
Replying to a question about bitcoin, its use as a hedge against inflation, and whether he still has some BTC… Jones said:
"I've always had a small allocation to bitcoin. In a time where there's too much money, too much fiscal spending, something like crypto, specifically bitcoin and ethereum, will have value at some point."
"We're going to have to have fiscal retrenchment," he further noted.
The billionaire was asked whether the crypto he mentioned will be "at a value higher than where we are today."
Jones replied: "Oh yeah I think so."
Jones has been pro-bitcoin for quite some time. In May, he said, "It's hard not to want to be long crypto."
BWCEvent aspires to share balanced and credible details on cryptocurrency, finance, trading, and stocks. Yet, we refrain from giving financial suggestions, urging users to engage in personal research and meticulous verification.