Buy Binance Coin (BNB) with Debit Card
---
Buying a BNB with a Debit Card is one of the fastest and most accessible means that most trading platforms offer. And some of these platforms even allow for a feature where you can save your Debit Card details to your account for future transaction purposes, allowing for a very mobile means of purchasing BNB. All required for a successful BNB purchase through this method is a valid Debit Card with enough funds to meet the minimum amount of BNB allowed to be purchased.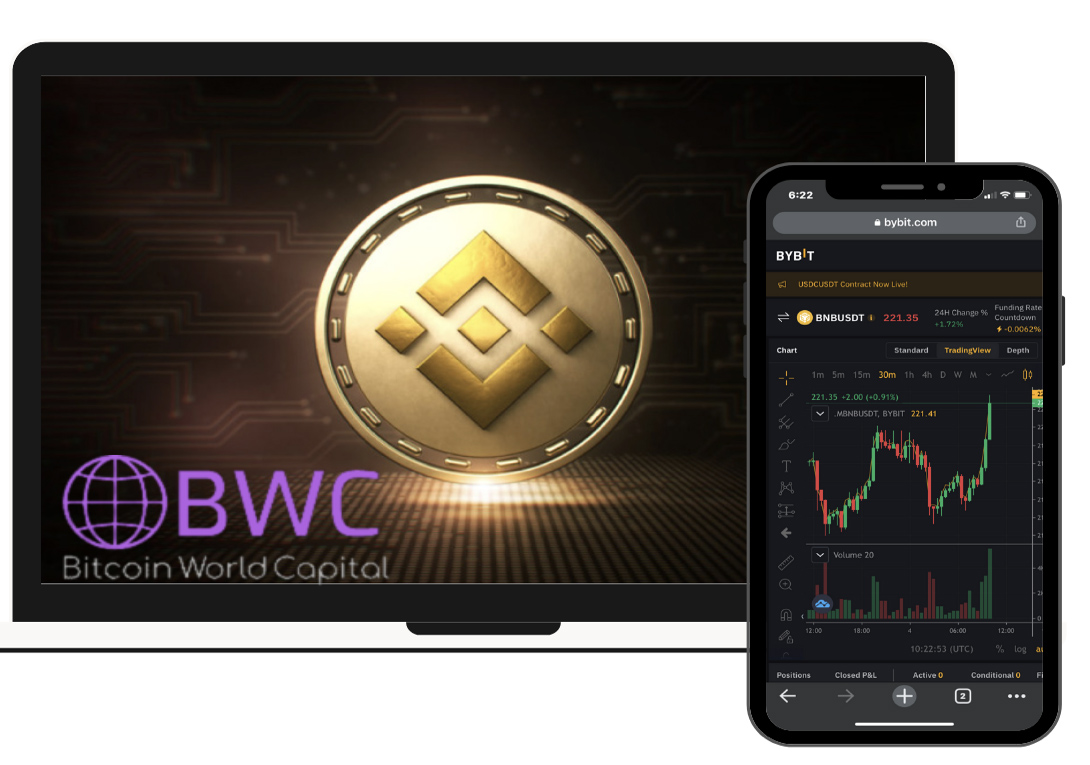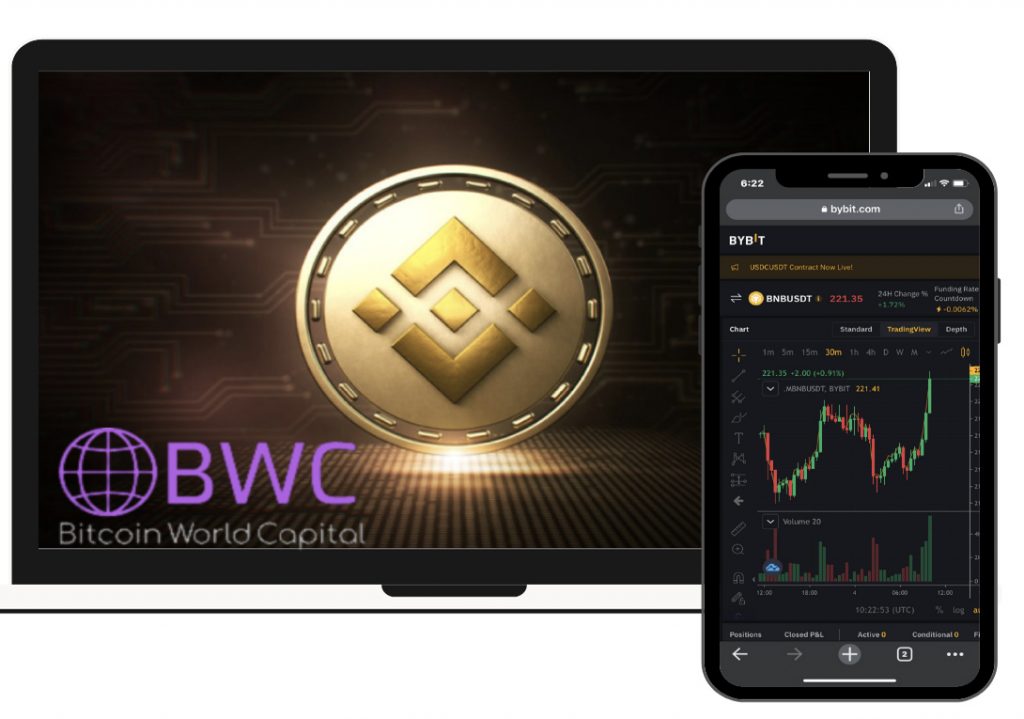 Top Three Exchange Platforms to Buy BNB With Debit Card
A good exchange platform provides at least more than one method of payment. It ensures its users have access to more than one method of making payments to make transactions as seamless as possible for different users. These three platforms below offer Debit Card transfers as one of those methods.
Binance, Bybit, and Trust Wallet are three of the fastest means of purchasing BNB using a Debit Card. They are secure and provide precautionary methods to ensure a scam-free transaction where both parties get what they requested.
This exchange platform allows for the trading and purchase of BNB directly from a Debit Card. Anyone with a verified account can instantly input their Debit Card details and purchase BNB into their Binance wallet. The process is easy and takes little to no time to complete.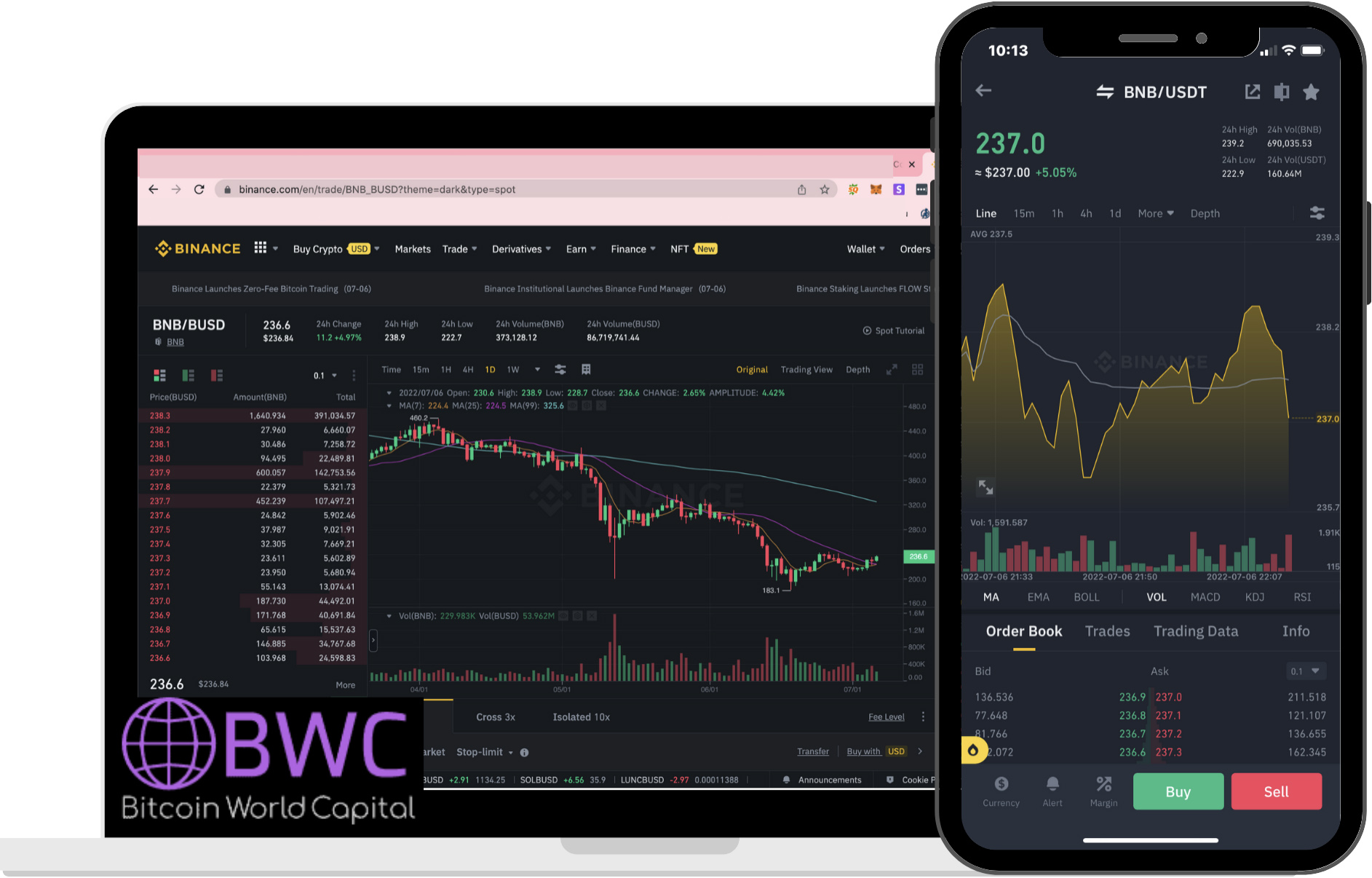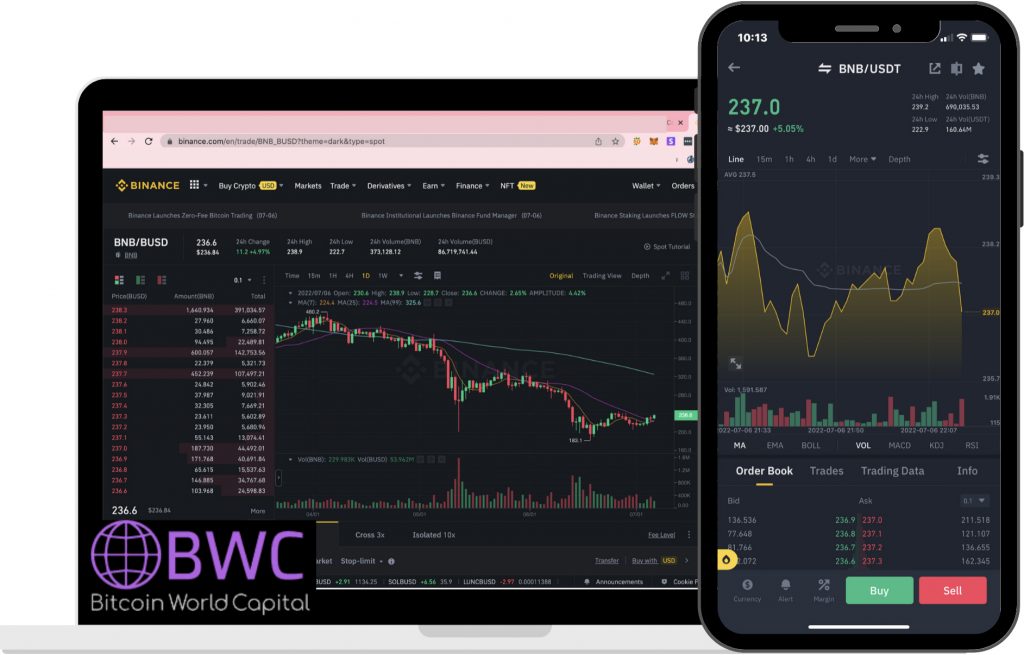 Purchasing BNB with Debit Card on Binance
You can begin by verifying your account and then using that verified account to tap the trades icon. On the trade page, you will be allowed various options for trading BNB. The fiat option will direct you to where you can buy your selected cryptocurrency.
Once you have selected BNB the cryptocurrency you're aiming to buy, you will then be directed to a page where you have to select the currency you want to buy BNB in.
After selecting the currency you would like to make your payment in, go on and select the Bank Card option under "deposit with". To continue, you will have to input your Debit Card details and make payment for the amount of BNB your account can contain in a day.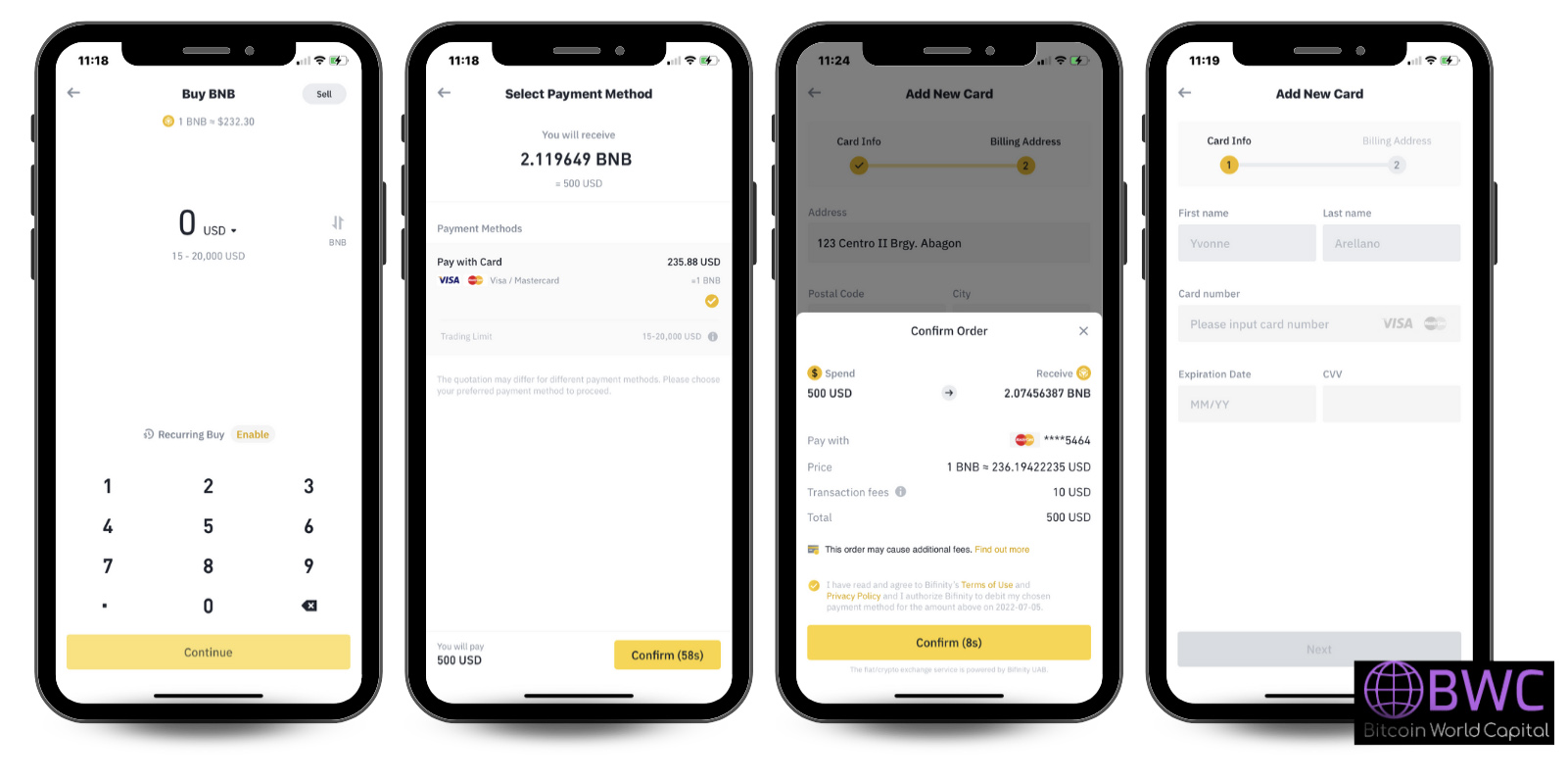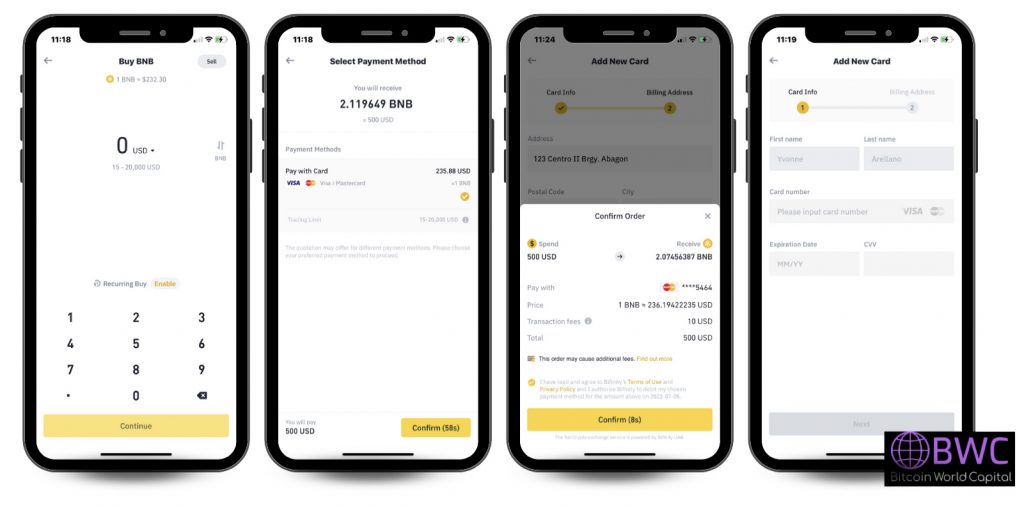 Pros
It is a reliable and direct method that can be verified within the hour of payment.
This method is very mobile, especially if you happen to have your card on the go.
Debit Card details can be saved for future transactions on this platform.
It is very secure, so scammers can't get your data.
Cons
A 1.8% transaction fee is charged to your Debit Card every time this payment method is used.
The total amount of BNB a user can buy in a day is determined by the level of verification which that user's account can provide.
BNB can quickly be purchased using a direct Debit Card transfer with this trading platform, making it a very reliable platform when it comes to purchasing BNB. Since the platform requests authentic details before verifying an account and allowing it to buy BNB freely, this added measure of safety has significantly reduced the rate of fraudulent activities on its trading platform. Anyone can buy and transfer BNB through the Bybit platform, however, to buy some BNB with your Debit Card, your account must be verified and have the same details as your account. Meaning that you can only use your Debit Card to buy BNB on this platform. This is also another way of reducing fraudulent activities on the platform.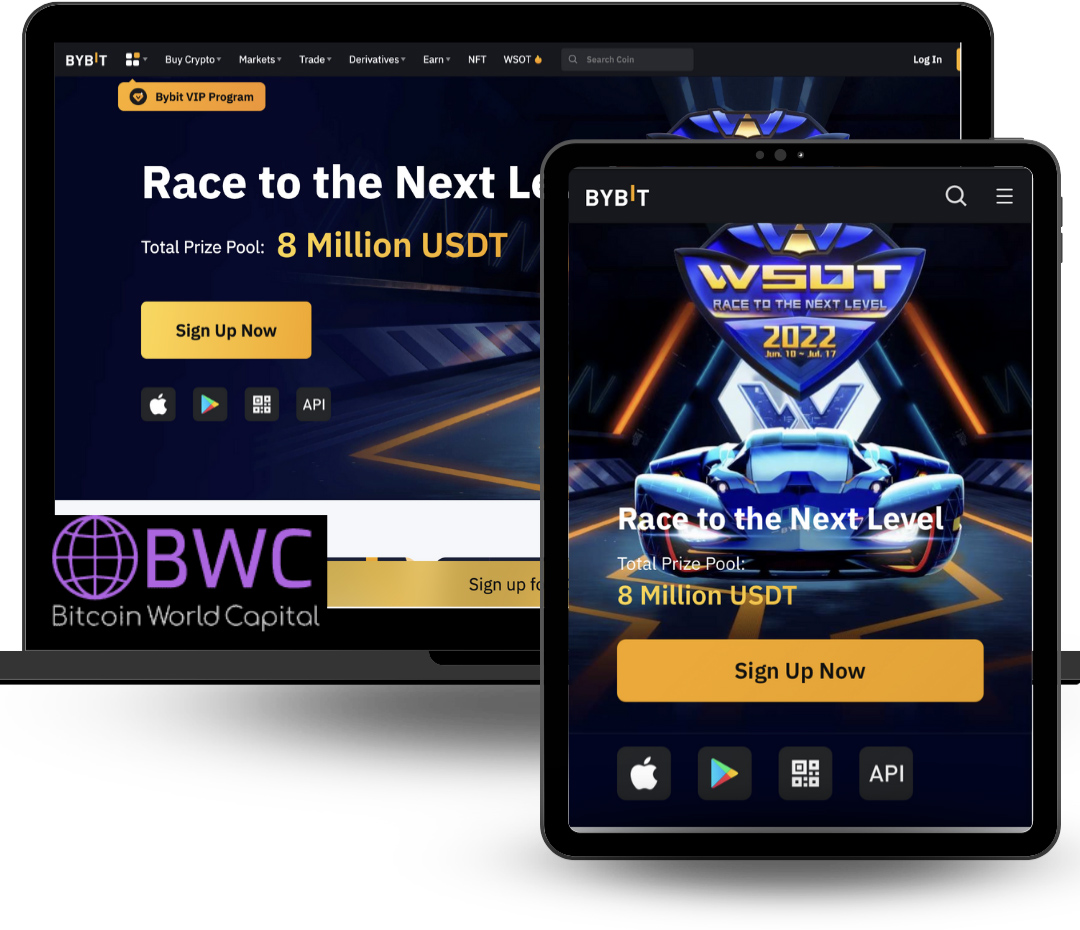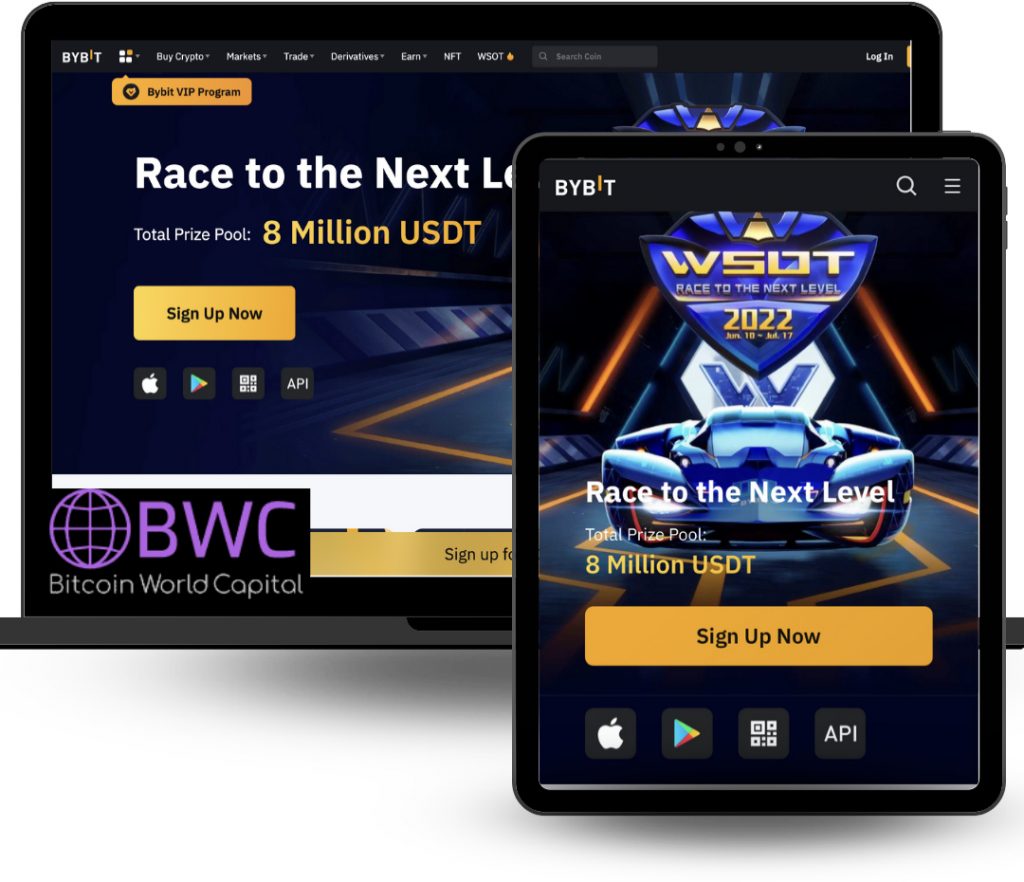 Purchasing BNB with Debit Card on Bybit
Using Bybit to buy BNB is a simple and fast procedure that anyone can perform within 5 minutes. With a verified account, select BNB and link your Debit Card to Bybit to allow them to debit the bank account connected to that card.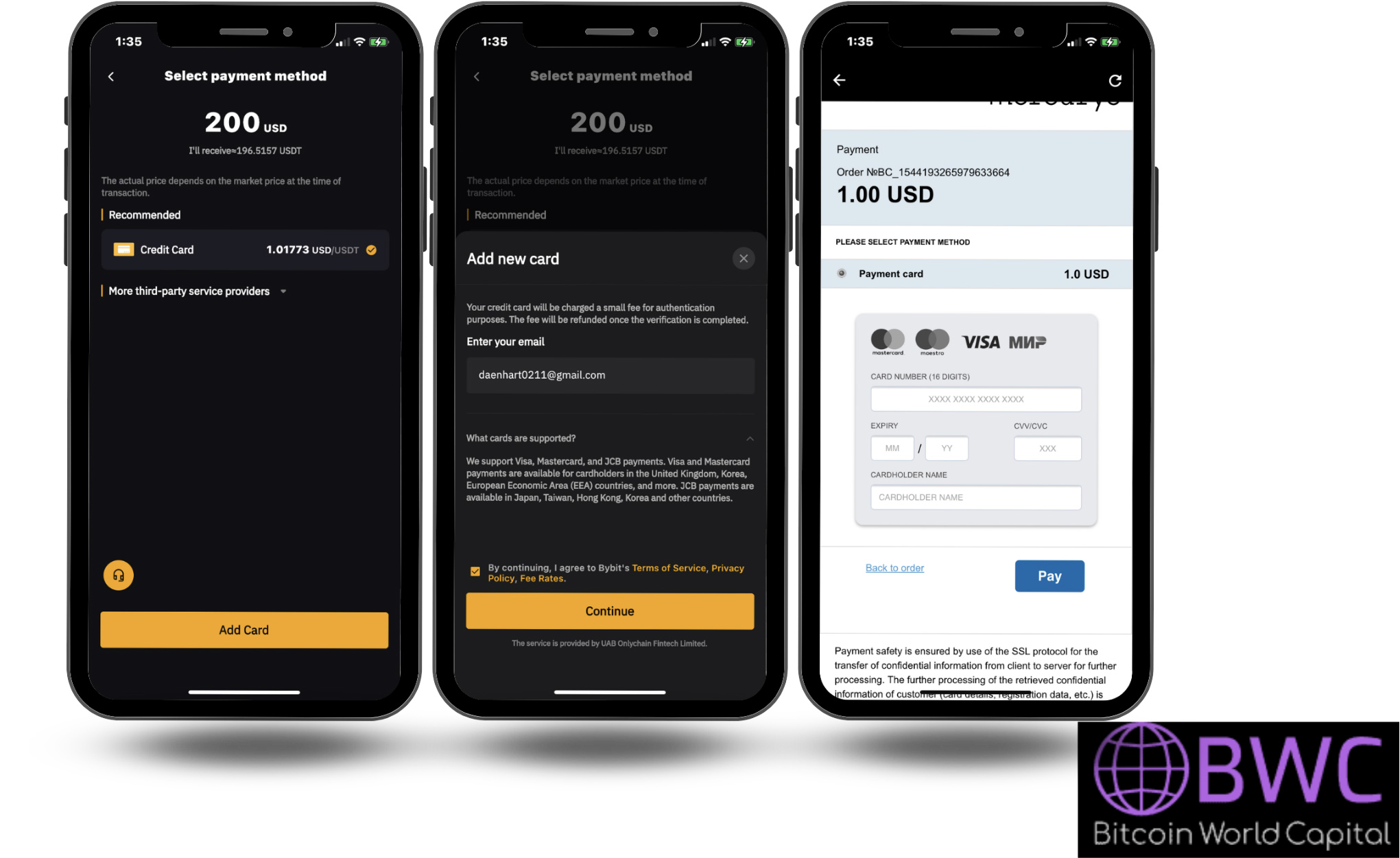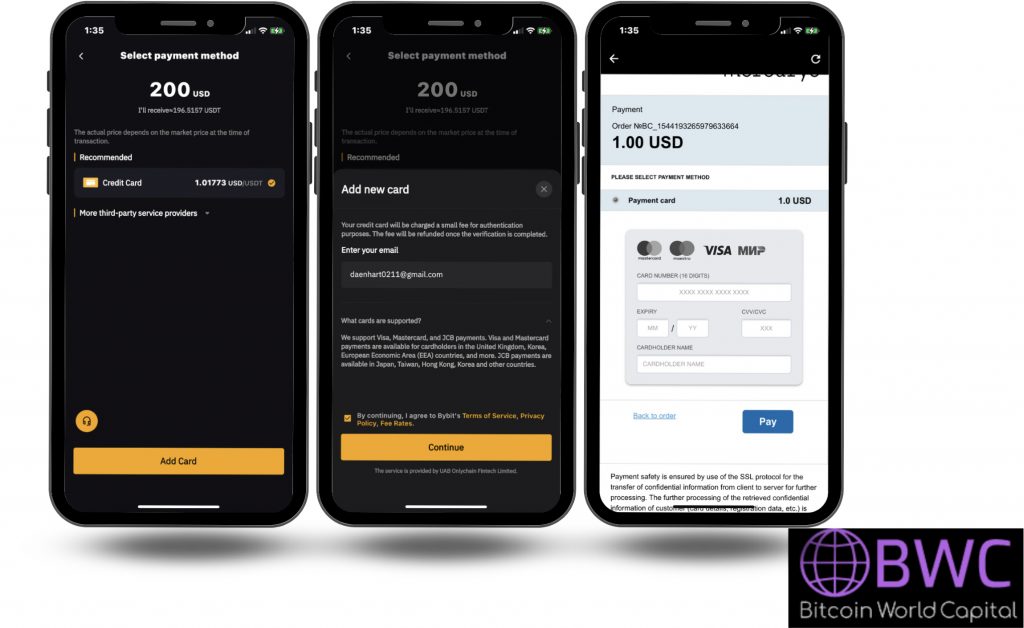 Pros
It is a fast method that can easily be accessed by anyone with a valid Debit Card.
Transactions are safe and secure from third-party intervention, with the double authentication system, which leaves very little room for scams.
Buying BNB with this method is very straightforward.
Cons
This platform doesn't allow room for third-party payments. Payments are only allowed with the Debit Card of the account owner.
If payment is declined, it may take longer to revert based on the working day's factor.
This exchange platform is another common source for purchasing BNB. It has a simplified platform that can be easily used to purchase BNB using a Debit Card at any time. Anyone can easily register on this platform with just their email. Once that email has completed its verification process, then that account can easily be used to purchase BNB using a valid Debit Card.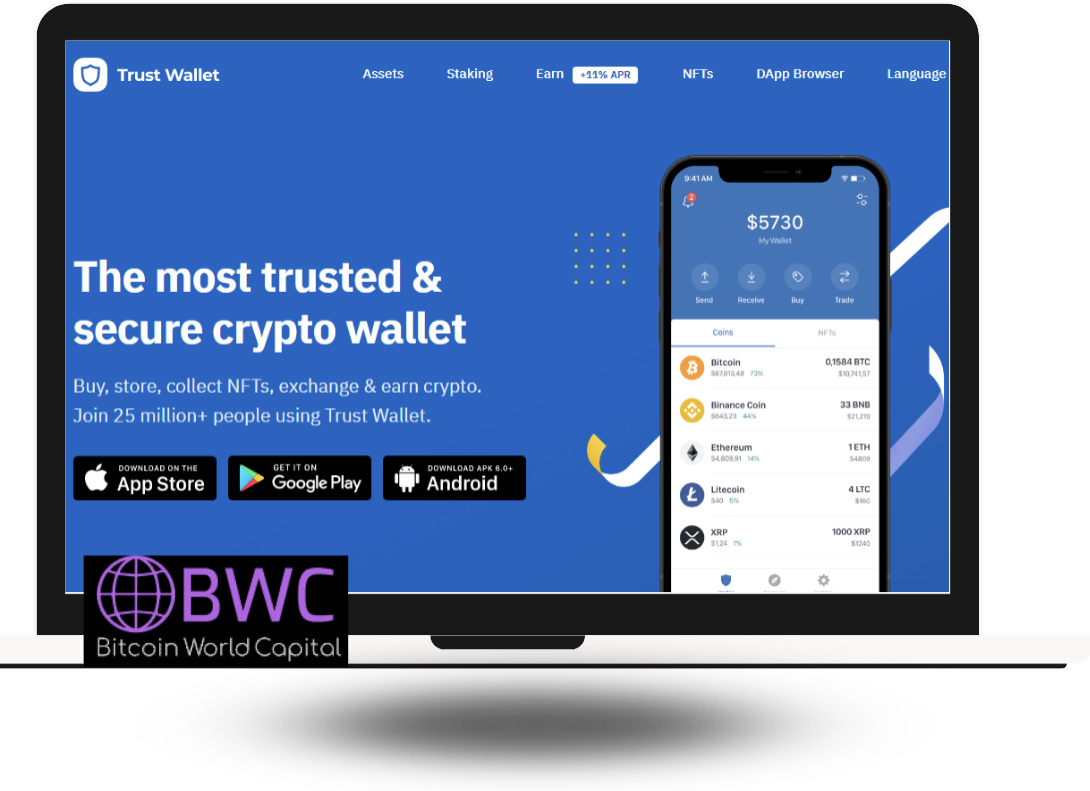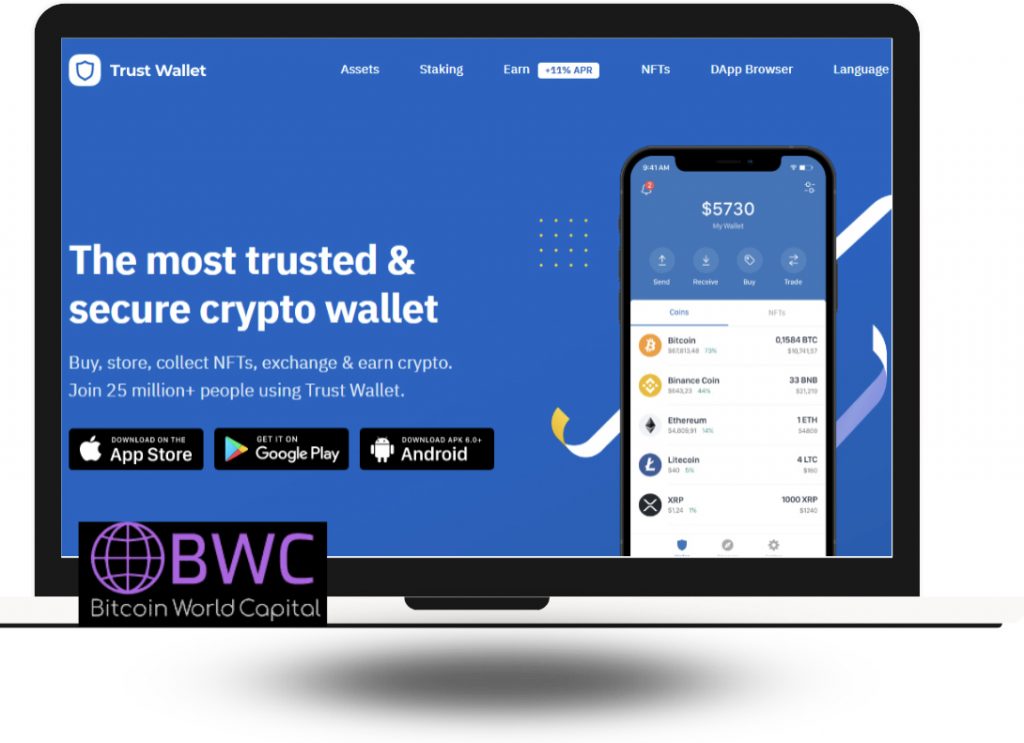 Purchasing BNB with Debit Card on Trust Wallet
To purchase BNB on this platform, you will first click on BNB from the Trust Wallet cryptocurrency trading options. Once that is selected, you will be directed to the BNB page where you will notice a buy option. Click on the buy option and get directed to a page where you can purchase BNB through Simplex, using your Debit Card. Once you select Simplex, you can input the requested info and make your purchase of BNB.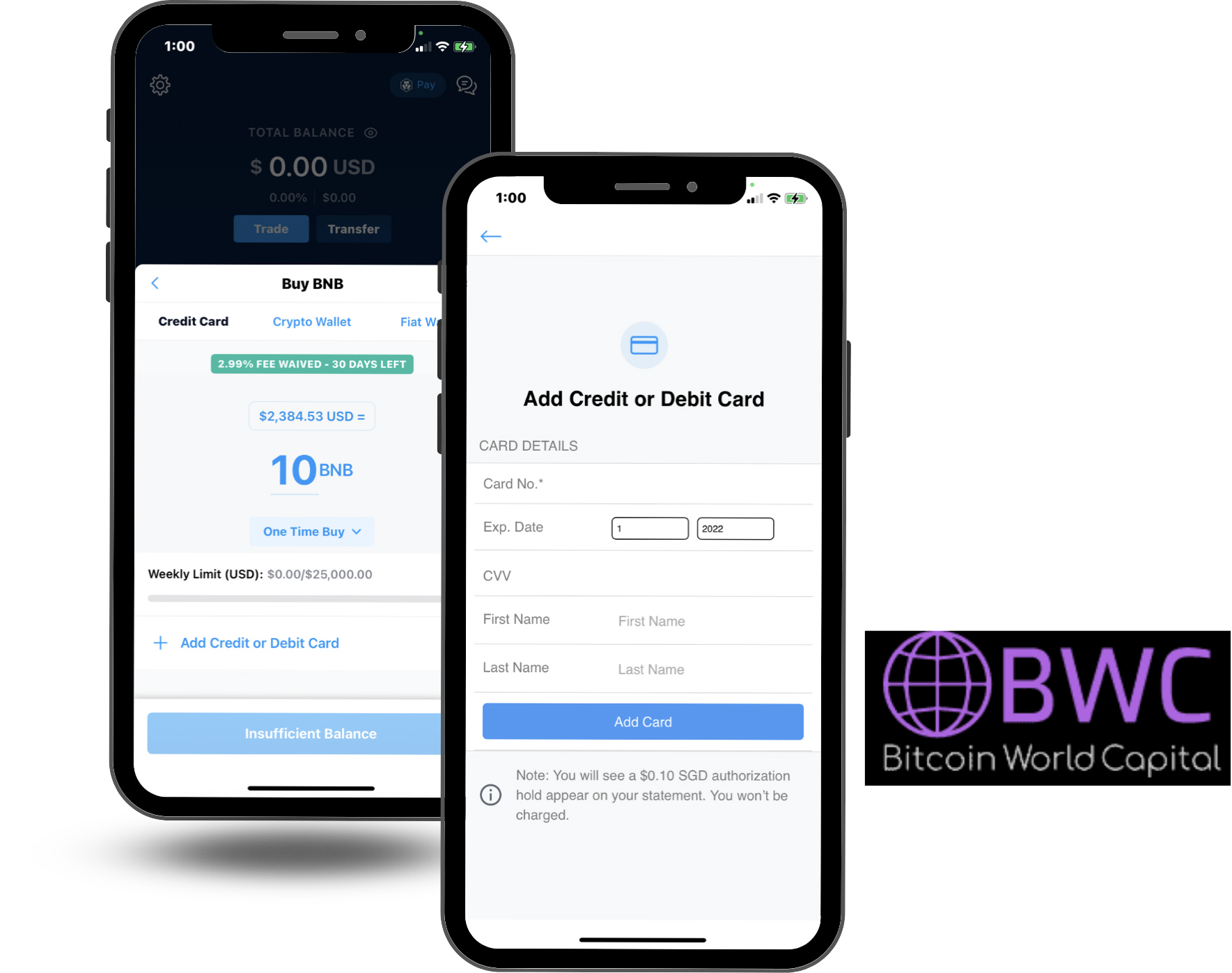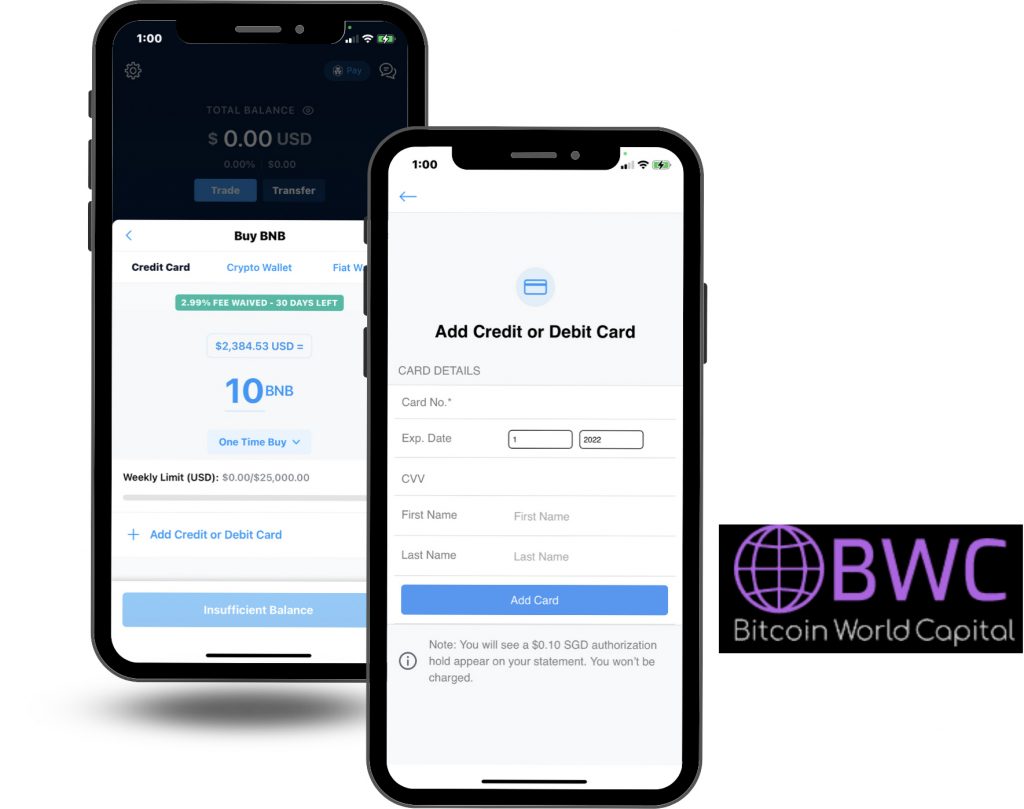 Pros
Occasional emails from Trust Wallet let account owners know of different offers that may favor them. This service is totally free, but you'd have to sign up for this however.
Direct payment is made with your Debit Card.
Payment can be verified within 5 minutes of making a transaction. Quick and seamless.
Cons
This platform only offers one method of Card transfer, which can be quite limited especially to people in other countries.
Transferring Cryptocurrency out of this Wallet can prove difficult with extra fees that cannot be avoided.
Is purchasing BNB with my Debit Card secure?
Yes, provided you only insert your Debit card details on the exchange platform and not don't send it directly to anyone, your transaction will be secure. These platforms have strong security protocols in place to safeguard your data.
Can I purchase BNB using my Debit Card where I live?
Restrictions are placed on general Cryptocurrency activities in some countries like Russia, Egypt, Algeria and China, but a lot more countries allow for the usage of Cryptocurrency by their citizens. So check with your local authorities before making any purchase of BNB, that way, you can be sure of the legal implications of your actions.
How will it take for my payment to process?
Payments usually take less than 15 minutes to execute. Just fill in the right details and use an OTP or token code to verify your transaction. This payment process is made even faster when your Debit Card details are already stored on the exchange platform.
BWCEvent aspires to share balanced and credible details on cryptocurrency, finance, trading, and stocks. Yet, we refrain from giving financial suggestions, urging users to engage in personal research and meticulous verification.