Is SushiSwap (SUSHI) a Good Investment?
---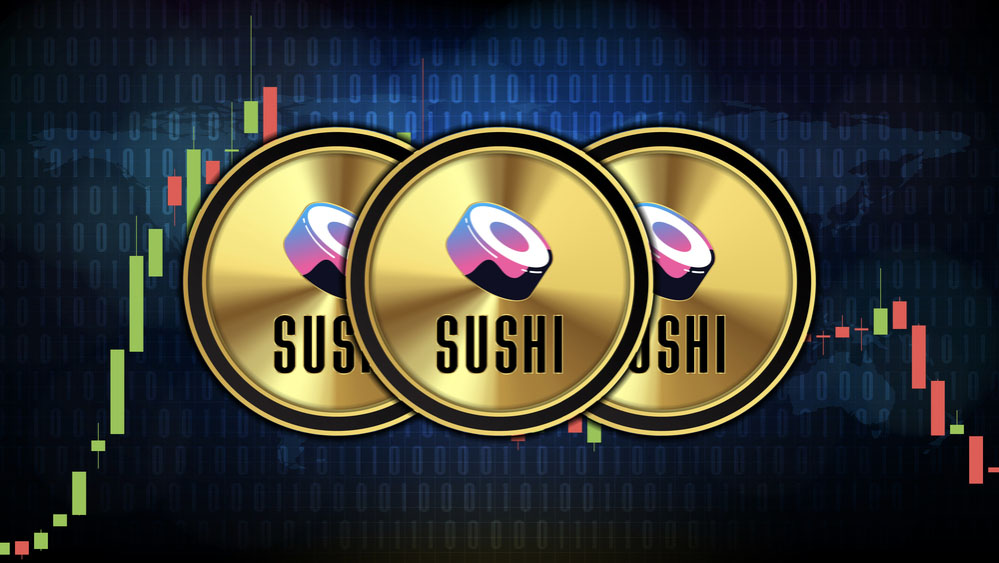 SushiSwap (SUSHI) Cryptocurrency Overview for 2022
Sushiswap happens to be one of many projects running on Ethereum. It aims to take advantage of liquidity pools to allow for the buying and selling of crypto assets. A basic requirement here is a network of users to operate the platform where the exchanges are to take place.
If this kind of workflow sounds familiar to you, that's because Uniswap is known for doing a similar thing. SushiSwap happens to have started as a fork of Uniswap.
Decentralized finance or DeFi platforms continue to emerge on the market, requiring differentiation as a pillar of success. As far as SushiSwap is concerned, allowing users to trade their cryptocurrencies without a central operator administrator in the mix is certainly a plus.
SushiSwap (SUSHI) Cryptocurrency Overview For 2022
Instead of going the traditional order book route, SushiSwap aims to focus more on the automated side of things. Typically, you may see individual purchase and sale requirements being matched to seal a trade.
Instead, users can pool two assets together and have trading done against them, with the final price determined based on a ratio between the two. While SushiSwap began as a UniSwap fork, it is taking on both bespoke and diverse characteristics.
What is SushiSwap (SUSHI)
You would have gathered by now that SushiSwap is a decentralized exchange and has adopted the automated market model in lieu of an order book. Being derived from UniSwap means that UniSwap's code formed the foundation of SushiSwap's design.
However, there are several differences to bear in mind, the key one being rewards being distributed in the form of SUSHI. For reference, SUSHI is the native SushiSwap token. Liquidity mining allows it to be distributed to providers, and it happens to be an ERC-20 token.
Note that there is a finite supply, with a maximum of 250 million units being present.

The History of SushiSwap (SUSHI)
SushiSwap entered the fray on the 28th of August 2020, and it immediately differentiated itself with its offering of both liquidity mining and a governance token in the form of SUSHI. Initially, users could stake UniSwap LP tokens on SushiSwap, offering the latter's governance token as a reward.
A large incentive was provided for those who moved their liquidity to SushiSwap from UniSwap, meaning that there was a liquidity spike because of those who wanted to take advantage of the high yields.
SushiSwap's creator uses the Chef Nomi pseudonym and certainly incited strong feelings from the public. This is especially true when it was discovered that Nomi planned to redeem UniSwap LP tokens that users would stake for assets that would then be transferred to SushiSwap.
In early September 2020, Nomi would drain the development fund in a move to swap it for 37,400 ether, leading to an over 70% price drop in SUSHI in less than 24 hours. This decision received heavy criticism from the community, which led to the ether being voluntarily returned and an apology being delivered.
Nomi would eventually depart from the project, leading the community to properly establish ownership and control, which would be split between Multisig, and Operations Multisig addresses.

How Does SushiSwap (SUSHI) Work?
At its core, SushiSwap aims to mirror the functionality of a traditional exchange, offering the purchase and sale of crypto assets in a peer-to-peer fashion.
In the absence of a central entity, smart contracts are used to maintain traded tokens on the SushiSwap platform. Effectively, users use software to lock crypto, which traders can then access.
Note that the said treaters are required to pay a fee, which is then apportioned based on the pool contribution to all the liquidity providers.
The providers contribute to the pool using connected Ethereum wallets and locking two assets into a smart contract.
SushiSwap (SUSHI) Price Prediction
SushiSwap price predictions differ based on which analysts you pay attention to.
Wallet Investor, for example, uses algorithm-based forecasting tools to provide a price forecast on what a cryptocurrency may look like over a given period. It expects the SUSHI coin to fall to $0.19 by 2023 and top off at $0.21 by 2027.
DigitalCoin, on the other hand, sees things it's more favorably, expecting SUSHI to show an average of $3.81 in 2022, reaching $5.80 in 2025, before getting to $9.06 in 2028.
Price Prediction is next on the spectrum, expecting SUSHI to hit a $4.23 average in 2022, stopping a bit short of quadrupling and hitting $13.84 by 2025, and then heading to a staggering average of $90 by 2030.
However, none of the bullish expectations to Gov Capital's expecting SUSHI to trade at $21.62 by the end of 2022 and move up to an incredible $103 by April 2027.
Is SushiSwap (SUSHI) worth Buying?
Even considering the crypto market crash that had SUSHI practices on the downturn, its projections look mostly solid for the future, especially when considering the sentiments of several crypto experts.
The expectation is that SUSHI is going to rebound and go even higher than it was before, with some even confident that the value can appreciate over 5000% in the next five to 10 years.
By all indications, SushiSwap is indeed worth buying.
SushiSwap (SUSHI) Forecast 
A big part of the positive forecast has to do with the internal SushiSwap happenings that are meant to bolster efficiency. For example, the addition of new team members in a restructuring exercise aimed at rekindling key stakeholder relationships goes a long way.
Additionally, an external operations advisor has been hired, plus a proper compensation structure across all departments has been implemented. Even the proposed SushiDAO legal structure is on the horizon.
The big idea surrounds long-term team commitments, talent retention, a formal executive body, and the development of the SUSHI 2.0 interface.
There are even plans to designate 6 million SUSHI over a four-year period to be allocated to upcoming project leadership and strategy, future hires, and existing contributors.
Where to Buy SushiSwap (SUSHI)
With all that information, your next concern may be how you would go about purchasing SUSHI and where to do so. There are several alternatives available, but the ones to be covered below are Binance, Coinbase, Gemini, and FTX.
You're going to be acquainted with the pros and cons of each, as well as the purchase process you would need to go through.

Binance
When you think about crypto exchanges, it's unlikely that Binance's name is not going to come up. With over 80 currencies available, a flat 0.1% fee for spot trades, a 0.5% fee for instant purchases and sales, and an option for recurring investments, it's not hard to see why.
Additionally, a $10 minimum trade requirement is very welcoming to those who may not have large sums and may still wish to get into the trading game.
Pros
Compared to other exchanges, Binance has incredibly low fees
The identity verification process creates an additional layer of security
Integration of a tax statement portal that helps with the preparation of crypto taxes
Educational resources are present in spades
Cons
The user interface is not the most straightforward
The site is marred by a history of regulatory scrutiny
How to Buy SushiSwap (SUSHI) with Binance
Binance does not directly offer you the ability to purchase through SushiSwap but using another exchange, you can do so. In this case, FTX, which is also covered below under its own heading is going to be used to finish the process.
If you're more comfortable starting things off with the Binance interface, then you can go this route. Alternatively, if you prefer the convenience of using FTX directly, then that should work as well.
Registration
Begin by clicking on the "register" button and filling in your email address, password, and other required details to complete the registration process.
Buy BTC
Click on this "buy crypto" button on the menu blue bar at the top of this page. Select "BTC" and use your Fiat currency to purchase some person of Bitcoin. Bitcoin is being used because of its universal transmissibility.
Transfer Your BTC to FTX
If you don't have an FTX account, you are also going to create one. From the FTX interface, click on "wallet" from the top left, and copy the deposit address. Head back to Binance, click on "wallet" on the right-hand side, select the "Fiat and Spot (Deposit & Withdrawal)" option, and paste the deposit address you would have copied.
Trade for SushiSwap
Now, you can select the SUSHI/BTC pair on FTX to choose how much of your Bitcoin you want to convert. With that, you now have SUSHI.

Coinbase
Like Binance, Coinbase is also well-known and regarded, having the title of the largest US-based cryptocurrency exchange in existence. Additionally, its security features are much less obscure than some of its competitors, leading to a more encouraging experience.
Pros
Almost 100 cryptocurrencies are offered, consisting of popular and obscure ones
Insurance to cryptocurrency is provided, meaning if there is a hack, member assets are protected
Accounts have a low minimum investment requirement
Cons
Fees are higher than those of some other exchanges
The fee structure can be a bit confusing to understand
How to Buy SushiSwap (SUSHI) with Coinbase
Purchasing SushiSwap from Coinbase is pretty straightforward since there are no intermediaries required, as was the case with Binance above. Additionally, an intuitive user interface helps tremendously.
Create Account
You want to start by downloading the Coinbase app and putting in the brief personal details required. Be prepared for a verification check requiring a valid government-issued ID and an approval address.
Add Payment Method
Before you can start doing transactions, you need to put in a payment. Click on the "connect a payment method" option, select your desired payment method, and confirm.
Buy SUSHI
When you are ready to purchase, search for the asset you want using the search bar. In this case, you're going to be typing "SushiSwap," select it, and you get the purchase screen.
From there, enter the amount you'd like to spend using your Fiat currency, which is automatically mapped to a SUSHI amount. Select "preview buy" to validate your purchase details and then confirm your purchase.
Gemini
Gemini's appeal comes from its transformative ability to offer a different experience based on who is using it. For example, if you're a beginner, you can make it easy to use, or you can make it incredibly modular and detailed as a more advanced trader.
Pros
Gemini is available in all 50 U.S. states
Insurance is present on the platform, meaning if the exchange is hacked, your assets are protected
There are more than 50 cryptocurrencies on the platform
Cons
Gemini's fees can be quite prohibitive, considering they're higher than those of some other exchanges.
How to Buy SushiSwap (SUSHI) with Gemini
Purchasing SushiSwap on Gemini is very straightforward, as it boils down to nothing more than a three-step process, detailed below.
Register on Your Selected Platform
You can use either the Gemini mobile app or website to complete your transaction. Once you've decided, you need to register by providing the details required.
Choose Your Crypto and Order Type
After registration, you can use the market tab from the homepage to search for the crypto you wish to buy, which is SUSHI, in this case. You also want to select your order type, as the platform allows you to do a one-time or recurring purchase. If you want your purchase to recur, you need to also set a frequency.
Select Your Payment Method and Purchase
Enter the amount of SUSHI you want to purchase and click on "continue." Choose your preferred method of payment, review your trade details, and swipe or click to confirm on the app or the website, respectively.
FTX
FTX allows for the trade of cryptocurrency and crypto derivatives via its digital exchange. Not only is it designed to help provide access to some of the best spot trading practices, but it also allows for Fiat and stable cryptocurrencies to be traded.
Pros
The KYC process allows for greater security, but manages to be simple enough to get through
The platform guarantees liquidity for its users
A fee structure is quite welcoming
Specialization in crypto derivatives is a welcome feature
Cons
FTX leveraged tokens present a very risky investment prospect
How to Buy SushiSwap (SUSHI) with FTX
FTX is the final exchange to be covered, though it was briefly mentioned during the Binance section above. Again, you can purchase SUSHI directly through FTX, which is quite advantageous.
Create Your Account
Register on FTX using your email address and the other nuggets of personal information required. Have a photo ID ready to help the platform verify your identity for its KYC process.
Fund Your Account
You can fund your account in several ways, including cryptocurrency as you would have seen above. However, if you wish, you can use a credit or debit card, wire transfer, or PayPal instead.
Buy SUSHI
Now, you can search for SUSHI, enter the amount you want to purchase, and confirm. Once that's done, you're free to withdraw your sushi from your wallet.
Buy SushiSwap (SUSHI) with PayPal
If you want to purchase sushi via PayPal, then FTX is the way you want to go.
Register Your FTX Account
Register on FTX as directed above, by providing your details and completing the verification with your photo ID.
Use PayPal as Your Funding Source
When you get to the payment method section, select PayPal as your funding source, and authenticate your account.
Buy
Select your SUSHI amount and complete your purchase as directed above.
Buy SushiSwap (SUSHI) with Credit Card
FTX also allows for credit card purchases.
Register Your FTX Account
Register on FTX as directed above, by providing your details and completing the verification with your photo ID.
Use PayPal as Your Funding Source
When you get to the payment method section, select the card option as your funding source, and enter your credit card details for verification.
Buy
Select your SUSHI amount and complete your purchase as directed above.
Buy SushiSwap (SUSHI) with Debit Card
FTX also allows you to use your online-enabled debit card to purchase SUSHI.
Register Your FTX Account
Register on FTX as directed above, by providing your details and completing the verification with your photo ID.
Use PayPal as Your Funding Source
When you get to the payment method section, select the card option as your funding source, and enter your debit card details for verification.
Buy
Select your SUSHI amount and complete your purchase as directed above.
Buy SushiSwap (SUSHI) with Bank Transfer
With FTX, you can do a direct transfer from your bank to fund your account.
Register Your FTX Account
Register on FTX as directed above, by providing your details and completing the verification with your photo ID.
Use PayPal as Your Funding Source
When you get to the payment method section, select the bank transfer option and input your bank details. Transit time is based on your bank.
Buy
Select your SUSHI amount and complete your purchase as directed above.
FAQs
Is SushiSwap (SUSHI) Expected to Hit $50?
Some analysts expect SUSHI to hit well over $50 within the next five years. However, these are projections and market factors are the final determinant.
How Safe is SushiSwap?
SushiSwap is a very safe platform to use, and its planned future sees even more security features on the horizon.
What Is Impermanent Loss?
This refers to a situation where volatility causes an asset to depreciate in the short term, yielding a temporary loss to liquidity providers.
What Is the Official Site for SUSHI Documentation?
All official documentation can be found at https://docs.sushi.com/.
Conclusion
SushiSwap is quite an interesting prospect in the trading world. It was certainly controversial when its creator what's at the helm, but with community intervention, the prospects for the cryptocurrency are looking up, even following the crypto crash.
At this time, especially based on the expert projections, SushiSwap would certainly appear to be a good investment.
BWCEvent aspires to share balanced and credible details on cryptocurrency, finance, trading, and stocks. Yet, we refrain from giving financial suggestions, urging users to engage in personal research and meticulous verification.