Galaxia Crypto
---
Galaxia is a new crypto project that debuted in the second quarter of 2022. It blends a world of NFTs, DeFi, STO, and a reward system. Even so, its primary aim is to reverse a trend that makes blockchain technology burdensome for end users.
The Galaxia team wants to bring blockchain financial services under one platform by using the low-fee and highly scalable Klaytn blockchain. Moreover, the $14 billion in 2021 VC investments in blockchain startups may have only created more problems.
Galaxia has recognized convenience, lower fees, and faster transactions as the foundation of its solution. It aims to link different blockchain financial services and integrate them into online and offline payments. Let's look at this project, its native token, and its price forecast for 2023.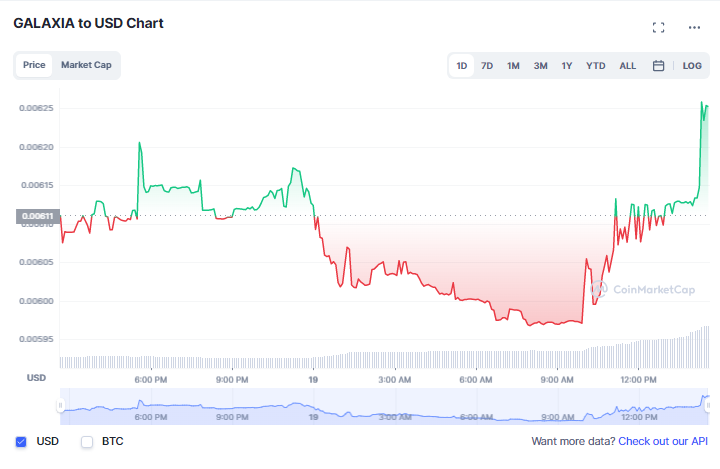 What is Galaxia?
Galaxia (GXA) is the native token of the Klaytn-based ecosystem, which includes an NFT marketplace, STO, DeFi, and rewards. Users can get GXA rewards for purchasing rare NFT works at a low cost. Also, you can view that art on the MetaGalaxia platform.
The token uses the Klaytn blockchain because of its high performance and transaction speed. It also has favorable fees compared to other blockchains.
Aside from selling NFTs for GXA, artists will also get token rewards for minting NFTs or doing marketing activities. That means you can do a review that helps the ecosystem and win prizes. At the same time, we know that this is enough as a marketing strategy to make people want the token.
Users can trade Galaxia with other cryptocurrencies, including Ethereum and Klay, on the MetaGalaxia platform. However, you must have a minimum amount before you can send your tokens to another exchange.
NFT ecosystems are not new, but Galaxia's inclusion of a rewards structure gives it an edge. It forms the basis on which other developments in cryptocurrency will be made.
This project has made vital partnerships in its early days. We have names like Hexlant, Brickmate, Ozys, etc., covering NFT marketing, technical support, community expansion, etc.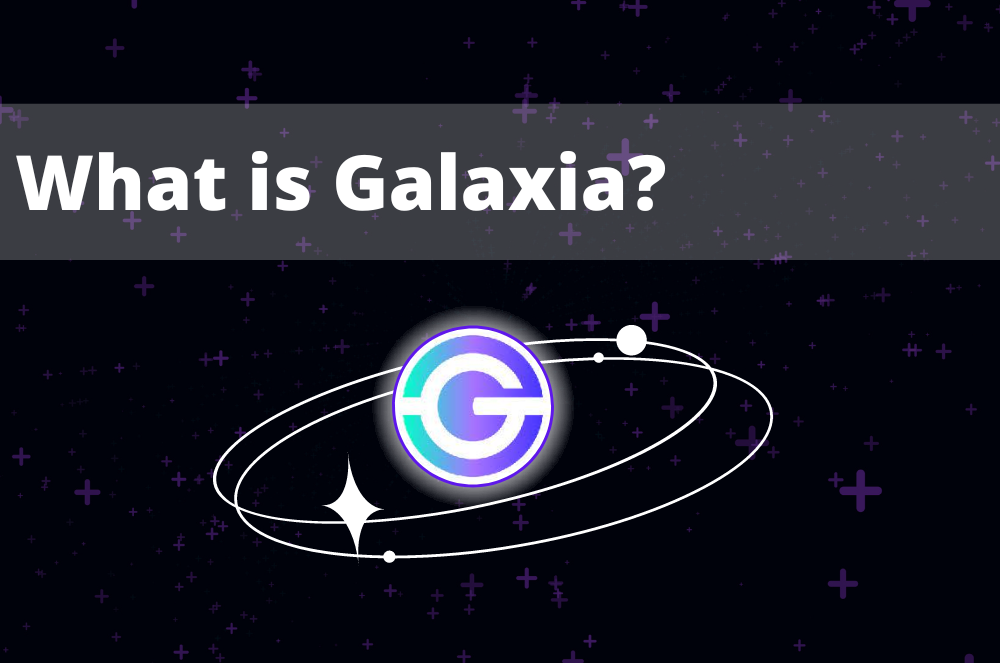 Components of the Galaxia Ecosystem
While the MetaGalaxia is the primary component of this crypto project, there are other areas. They include the following:
STO platform with diversified high-value assets
The team intends to have an interlocked platform with the real world, enabling regular people to invest in real estate, art, etc. Users will be able to access this diversified STO platform and its portfolio by using GXA tokens.
Decentralized finance for deposits and exchanges
GXA will become the key currency of this decentralized finance service. Benefits like interest on deposits and collateralized loans will also be available. Then, it will feature many cryptocurrencies for users to trade directly without switching to another crypto exchange.
The DeFi platform will also feature a staking service where users can stake their GXA tokens for rewards. It is a robust and ambitious project.
A Metaverse NFT gallery and an NFT-based STO service
The NFT gallery will allow users to browse artworks linked to the metaverse platform. The purchase will also be swiftly implemented. The STO project will work within the metaverse, allowing for diversified investments.
Offline and online crypto payments:
The idea of paying for offline goods with cryptocurrency is no longer novel. Some online stores already accept payment in different coins. Integrating this capability into Galaxia will make it easy for users to make payments offline and online.
The collaboration with Galaxia Moneytree is bringing this functionality to reality. It is a brilliant way to leverage technology for electronic payments and affiliate stores.
Reward service through MoneyTree
This point exchange platform is the backbone of Galaxia's online and offline payment systems. That includes ATM withdrawals, remittances, etc.
How Can You Buy Galaxia? Step-by-step Guide
You can get Galaxia in several ways, including by buying the token on a crypto exchange. The methods of obtaining GXA include the following:
As a compensation policy in any Galaxia project team-affiliated service of launch
As a reward when purchasing NFTs, including art and brand, on the MetaGalaxia platform
As a concept of interest from staking GXA on a DeFi platform for a specified period
Through friend invitations, airdrops, and other rewarding events.Through participation in MoneyTree-sponsored services and events
Through outright purchases with fiat currencies or other cryptocurrencies on supported exchanges
Galaxia's coin debuted in the second quarter of 2022. Here are the steps to purchase it:
Step 1: Find a crypto exchange with GXA
The number of cryptocurrency exchanges that list GXA is limited, although we expect it to increase in 2023. You will find the token on exchanges like Bithumb, Gopax, KLAYswap, etc. These platforms are available only for South Koreans and not for worldwide usage.
Step 2: Ensure you have a wallet to store the crypto
You will need a wallet to store this cryptocurrency after purchasing it. Some centralized exchanges may provide custodial wallets to sync with their trading platforms. Regardless of your choice, storage is the next option after buying.
Step 3: Search for the Galaxia trading pair
You can only trade the Korean won for this cryptocurrency. KLAYswap and Bithumb allow trades with USDT and BTC, but they are currently unavailable. Even Gopax once offered trading services to non-Korean residents.
The most likely trading pair you will find on the supported platforms is GXA/KRW. We expect more trading pairs to join the mix once the project undergoes its second exchange listing. Thankfully, that is likely to happen in the first quarter of 2023.
How to Store Galaxia in a Wallet and Which Wallet Should You Use?
Storage is essential for blockchain tokens, and you want the most secure place. Galaxia supports several wallets, including custodial and non-custodial ones. Picking one over the other boils down to personal preference for control.
Wallets that can store GXA include the following:
MetaMask
BitKeep
Coinbase DApp
Token Pocket
XDEFI
Klaytn Wallet
Coinbase Dapp is a non-custodial wallet that offers seamless sync to its trading platform. It might be the best choice if you use Coinbase for your trade. Moreover, it supports the EVM blockchain that Klaytn is built on.
Coinbase Dapp works on hundreds of Dapps and is compatible with all desktop applications. You can use the extensions to trade swiftly and connect with different platforms. In addition, the wallet does not charge for storage or transactions.
On the other hand, MetaMask is a worthy contender to store your GXA tokens. It has features that work with Dapps on the blockchain and make adding custom tokens easy. The wallet is not limited to the EVM blockchain.
Picking a versatile wallet saves you from the stress of using new wallets on different platforms. You can sync all of your tokens and transactions from a single location. Nonetheless, no wallet does it all in the crypto space.
Galaxia Forecast for 2023
GXA took one day to climb from $0.005163 to its all-time high of $0.01411. This event occurred between October 26 and October 27, 2022. While that is intriguing, the recent linkage of payment and reward with MetaGalaxia may have caused it.
STO payment and reward linkage with MetaGalaxia came in the last quarter of 2022, but more was needed to save the crypto. It continued the bearish trend, ending the year at $0.005466.
The project team has a few things lined up for the year, which will lead to renewed interest. One of the most significant blows to this crypto was the law prohibiting GOPAX from allowing non-Korean residents to use virtual asset services. Hence, getting more exchange listings will be crucial to its value in the crypto market.
Before we give a forecast, here are the events lined up for 2023:
Second crypto exchange listings:
Although little is said about this, we should expect listings on global exchanges. This access will allow traders to buy and sell GXA without limitations, increasing its value.
Cryptocurrency payment service and blockchain wallet launch
DeFi integration is one of GXA's strongest suits. Launching it may swing market sentiment in the token's favor. A wallet will also be a welcome addition to the ecosystem.
While we look forward to these events, the relative strength index, moving average, average true range, etc., offer more insights. The token will remain bullish, reaching $0.0102 by December 2023. That is still short of the all-time high, but it has significantly increased over the December 2022 price.
The crypto may experience slight bumps along the way, but the general trend will be bullish. It has what it takes to end the year with a value above $0.0102.
Conclusion
The Galaxia ecosystem begins with MetaGalaxia, an NFT platform that showcases art and other works linked to the metaverse. Creators will receive GXA rewards for minting NFTs. Nonetheless, the ecosystem extends to include other useful features.
The STO platform will allow everyday people to invest in real estate, art, and other viable assets. Adding a full DeFi service on top of that completes the ecosystem's cycle. However, the tokens are challenging to find or trade.
GXA is only available on a few platforms, including GOPAX and Bithumb. These services are available for South Korean residents. While we wait for more DEX listings in the first quarter of 2023, you can trade the Korean won for the token on these exchanges.
Availability will increase demand for the GXA token. As a result, it might climb to a value of $0.0102 before the year runs out. It may exceed its all-time high set in October 2022.
Galaxia is still young in the crypto industry and has much potential. With several additions to be made in 2023, there is no telling how far it will rise in popularity.
Frequently Asked Questions
Which wallets are best for storing Galaxia tokens?
You need crypto wallets that support the EVM blockchain to store GXA. The Coinbase Dapp is excellent for syncing your storage and trades on one platform. Nevertheless, MetaMask is another viable option compatible with different blockchains and custom tokens.
Can I buy Galaxia with crypto?
This token is traded on the GOPAX and Bithumb exchanges, and they only support trading with the Korean won. Swapping with Bitcoin and USDT was available, but they have been suspended. Notwithstanding, the token will be available on more exchanges for trading in crypto or fiat currency
Will GXA reach $0.1?
GXA's all-time high is $0.01411, a value it reached in October 2022. Its lack of availability may have hurt it, but fixing that problem could send it back up to $0.01. The token might reach $0.1, but it is unlikely to do that in 2023.
BWCEvent aspires to share balanced and credible details on cryptocurrency, finance, trading, and stocks. Yet, we refrain from giving financial suggestions, urging users to engage in personal research and meticulous verification.