What is DogemonGo (DOGO) Crypto? Play and Earn With DOGO
---
The crypto world constantly finds new solutions to engage users. And what's more engaging than a system that allows you to earn while playing?
This is precisely the goal of DogemonGo (DOGO): NFTs and the metaverse join to create an environment inspired by an extremely popular game – PokemonGo.
DogemonGo mixes income opportunities, NFTs and augmented reality to offer its users an engaging gaming experience and new ways to earn crypto rewards in a play-to-earn environment that allows you to have fun, create, battle, network with other users and even become a landlord in the metaverse.
In this article, you'll find all the information you need if you're interested in DOGO crypto, a new BEP20 token.
What is DogemonGo (DOGO)?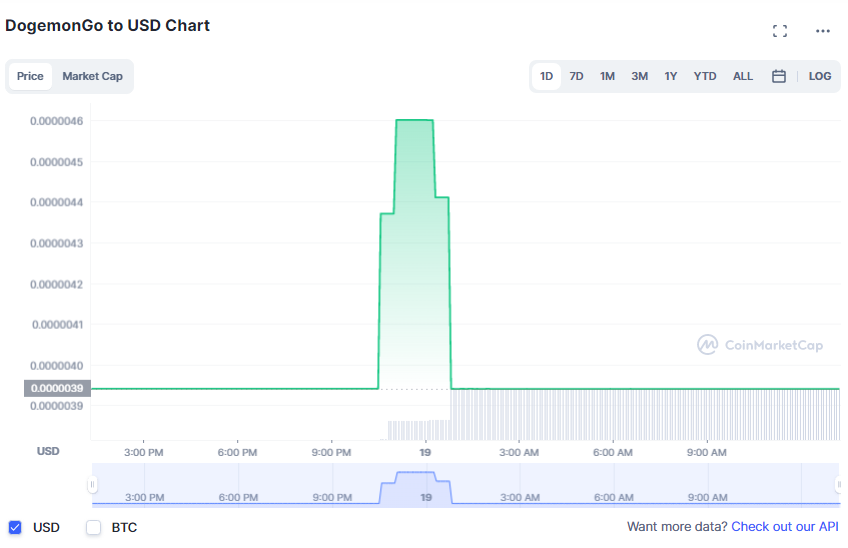 DogemonFo was developed and launched in 2021 by Frozen Ltd., a company based in Belize and created by Shamie Suarez.
As mentioned, this crypto project was inspired by PokemonGo, and actually many are the common features between these two games.
The advantage of DogemonGo is that it managed to bring people closer to the crypto world while allowing them to have fun with an intuitive game whose features were already known by most users.
When using DogemonGo, of course you won't find Pokemon, but Dogemons. The system is similar to the one created by PokemonGo: you can find other users and try to get their Dogemons, and you can battle to win them – as we will see later, this feature also allows landowners to earn additional rewards.
The crypto DOGO is what people need to participate in the game and to make purchases.
In fact, DOGO is only a part of a broader ecosystem that mixes metaverse, NFT and blockchain gaming.
The metaverse of DogemonGo is made up of plots of land that users can buy using DOGO. Buying land is a good move if you want to participate in DogemonGo caught and battles – also made by other users.
You can also sell your plot of land: land comes in the form of NFTs, so the tokens can be exchanged seamlessly.
Moreover, you can use DOGO tokens to buy credits and DogemonGo Rocket Balls. This can help you to reach new levels and higher credits every time you have a successful game.
Another peculiarity of DogemonGo is that users can create unique DOGO NFTs: the official website provides an NFT gallery and map where you can see where other NFT owners are located.
The DogemonGo application and NFTs
DogemonGo was designed to be a play-to-earn game that can be used thanks to augmented reality – AR.
Players can use their mobile devices – both Android and iOs – to find Dogemons, capture and train them.
As mentioned, NFTs play a pivotal role in the economy of DogemonGo. Creators can even decide to create unique pieces to own an exclusive Dogemon or to exchange that to earn cryptos. On the official website of DogemonGo you can find the NFT map where you can find all DogemonGo NFTs around the world – currently, one of the countries with the highest number of DogemonGo NFTs seems to be India.
Moreover, when you are a landlord – and you can become a landlord buying land plots in the form of NFT – you earn additional cryptos when other users walk or battle on your land.
The website also provides a leaderboard, so you can see who are the best players and even search the name of a player you know.
How can you buy DogemonGo crypto? Step by step guide
DogemonGo (DOGO) crypto is a BEP20 token.
Ethereum and ERC20 tokens are still the most popular choice when it comes to non-fungible tokens and the metaverse, but creators focused on gaming are looking for faster and less expensive blockchains.
Binance is, for sure, one of these blockchain networks. And this aspect also influence the way you can buy this token.
To buy DogemonGo (DOGO) crypto on a decentralised exchange, you can use DEXes that support Binance. One of the top DEXes built on Binance is, for sure, PancakeSwap Finance.
Decentralised exchange
To buy on this type of exchange you have to:
Find the DEX that better fits your needs,
Find a pool that uses DOGO or create a new pool – if you don't find already existing liquidity pools available and you want to trade the token,
Connect your decentralised wallet to make transactions and authorise them.
Decentralised exchange
Another way to buy DOGO is using a centralised exchange. The CEX that currently supports DOGO is LATOKEN.
This centralised exchange is constantly growing, and at a fast pace, because it's able to offer low fees. Moreover, you can find new cryptocurrencies more often than on other centralised exchanges.
If you're interested in buying DOGO by using LATOKEN, you'll need to follow a few steps:
The first step is signing up. Once you start the process, you'll need to provide personal information.
Then, you'll need to verify your account and to set up all the security tools available in order to keep your funds safe. All this is necessary to allow LATOKEN to be compliant with regulation regarding financial institutions. If you want to know more about the KYC procedures, LATOKEN has three levels of authorisation – the higher the level you complete, the lower the limits to your accounts.
Then, you can top up your account, select the amount of DOGO you want to buy and complete the transaction.
How to store DogemonGo in a wallet and which wallet should you have?
Being DOGO crypto a BEP20 token, you can use the Binance Wallet to store DOGO.
Binance Wallet, as well as other popular hot wallets, allows users to download an extension supported by different browsers.
Once you download the extension, you can create a new wallet. The waller will provide you with a seed phrase – usually made of twelve random words – that you have to store safely and offline: that phrase is what allows you to recover access to your funds in case you lost your device or changed it.
You'll also need to set up your password to access the wallet. The wallet will provide you with a public address you can use to receive and send your crypto tokens.
This decentralised wallet is also what you need to use decentralised exchanges: as we mentioned in our small guide on how to buy DOGO, you need to connect the decentralised wallet to the exchange you want to use.
In the case of DogemonGo, the Binance Wallet allows you to make DOGO transactions and to store your DOGO tokens once you buy them.
DogemonGo Forecast for 2023
At the time of writing, DOGO is worth around $0.000004. After the launch, the token experienced a sudden uptrend that led DOGO to an all-time-high of $0.0002727 – on August 21, 2021.
In a couple of months, DOGO crypto reached $0.00003202, after a short and dramatic downtrend. After a brief recovery that led the price of DOGO to $0.0001355, the token started a downtrend that ended in a sideways movement we can still observe.
Cryptocurrencies, in general, should recover in 2023 – especially after the dramatic falls in prices we witnessed in 2022.
In 2023, DOGO should more than double its price and move within a range that goes from around $0.0000068 and $0.000008.
Conclusion
DogemonGo is a blockchain-based full ecosystem that merges many engaging features.
The ecosystem was launched in 2021, so it's a relatively young crypto project.
The token that fuels this ecosystem is DOGO, a BEP20 token you can use to buy credits, in-game items and NFTs.
DogemonGo is inspired by PokemonGo, and it actually shares many features with the popular game – but in this case, you'll find Dogemons and not Pokemons.
The blockchain-based game uses Binance to offer a fast game developed in an expensive environment, and the ecosystem also allows users to create their own, unique NFTs.
The game doesn't only consist in the use of Dogemons: it is also a good occasion for players to meet and to create a strong community around the network. Then, the strong focus on NFT is reflected by a metaverse where you can buy plots of land and earn additional tokens.
In general, DogemonGo is an interesting blockchain-based game able to mix the features of a popular game, augmented reality and the many advantages of the blockchain-based industry, giving people different ways to earn crypto tokens.
FAQ
What is DOGO?
DOGO is the cryptocurrency that fuels the DogemonGo ecosystem. Inspired by PokemonGo, DogemonGo is a play-to-earn game you can use to collect Dogemons. The network also focuses on NFTs. In fact, part of the DogemonGo ecosystem consists of a metaverse where you can buy plots of land and earn additional crypto rewards.
When was DogemonGo launched?
DogemonGo was launched in 2021 by Frozen Ltd. The network uses the Binance chain – DOGO is, in fact, a BEP20 token.
Where can I buy DogemonGo (DOGO)?
You can buy DOGO on both centralised exchanges – mainly LATOKEN – and decentralised exchanges – like PancakeSwap.
How can I play DogemonGo?
DogemonGo is available on mobile. The DogemonGo app is supported by different operating systems. The game consists in finding Dogemons and training them, and do battle to gather other Dogemons. DOGO can be used to buy credits and different in-game items – including NFTs. 

BWCEvent aspires to share balanced and credible details on cryptocurrency, finance, trading, and stocks. Yet, we refrain from giving financial suggestions, urging users to engage in personal research and meticulous verification.