What Is The CXC Crypto? Complete Guide
---
You can find new crypto projects each and every day, and for crypto enthusiasts – and also for beginners – it is important to keep an eye on new tokens and coins available.
No one can know for sure what altcoins will succeed in the future, so it's interesting – and safe – to get reliable information about new crypto projects.
One of these is CXC – Capital X Cell: what is CXC coin? And how does it work?
In this article, you will find all you need to know about this new crypto token.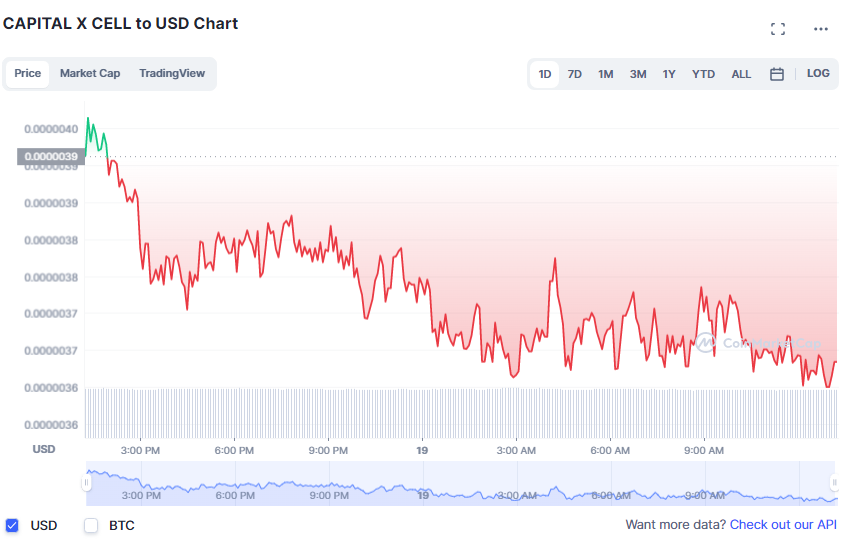 What is the CXC coin?
It is not easy for beginners to have all the information they need on this altcoin.
In fact, the most popular websites like CoinMarketCap and CoinGecko don't show enough data to have a complete overview of this token.
We know that this cryptocurrency is traded, at the time of writing, at $0.0000036 according to CoinMarketCap.
We know that the total supply of this currency is over 400 million CXC.
We also know that the goal of this cryptocurrency is mixing "PoA mining, atomic trading, deflationary economy, cloud storage and anonymous social networking".
It is a lot to cover for a single project, and it is even harder to fully understand the roadmap of this project because of the lack of information.
But, for the most techy crypto enthusiasts, we can have a look at the source code to try to gather more info.
Goals of CXC crypto
Before diving into the source code, let's have a look at some definitions that can help us understand the goals of this crypto project: from the consensus mechanism used, let's see how CXC wants to reach the goal of a deflationary economy based on collaboration.
PoA mining
Proof-of-Alternate consists in an algorithm that randomly selects a certain number of validators to confirm transactions and add new blocks to the blockchain. Unless there is only one validator available online, the same group of validators can't keep confirming transactions continuously, in order to guarantee the security of the network.
Atomic trading
Atomic trading simply refers to the capability of making peer-to-peer transactions via cryptocurrencies – that is, there is no need for intermediaries (centralised exchanges included).
Deflationary economy
Deflationary economies are typical of those crypto projects that want to act as a hedge against inflation by using tokenomics designed to reduce the supply of tokens over time.
Cloud storage
Another goal of CXC is to distribute the storage power of a network across participants, in order to maintain a decentralised cloud storage service.
Anonymous social networking
Anonymous social networking is possible thanks to the use of decentralised blockchains and wallets.
CXC whitepaper and source code
To get back to our source code, on GitHub it is possible to find all the information you need about CXC crypto.
The whitepaper of CXC crypto clearly shows that its main purpose is to focus on collaboration, decentralisation and privacy.
The crypto is the result of forks from Tron, Vue and Libra, and this tells us that the CXC network wants to accomplish its goals by:
Focusing on privacy and anonymity,
Favouring support to developers by providing an intuitive programming language that helps with coding smart contracts and building decentralised applications,
Favouring social networking and cooperation among network participants.
CXC aims at building a sort of global blockchain thanks to a cross-chain mechanism that can further improve the adoption of DeFi – decentralised finance.
Is CXC crypto a scam?
Despite the good purposes of this crypto network, many users assess that CXC is a scam.
It's hard to assess this with certainty when it comes to crypto projects, but we can still analyse data to assess that CXC seems quite a risky asset, which is more suitable for developers than everyday traders and investors.
In fact, if you're not familiar with coding and more technical blockchain aspects, it's hard even to get reliable information on CXC.
How can you buy the CXC coin?
Nevertheless, you might still be interested in supporting this crypto network by buying CXC. In this case, there are different paths you can follow to buy this cryptocurrency.
The centralised, permissioned path
If you choose the centralised path, the exchange that supports CXC trading is BKEX.
You'll need to sign up to the exchange,
Provide the required information,
Verify your account,
Top up the provided wallet,
Choose the amount you want to buy and complete your transaction.
The decentralised, permissionless path
If you prefer the decentralised path, you can use the decentralised wallet provided by Capital X Cell via GitHub. You can download it on PC and for mobile operating systems to directly communicate with the blockchain.
How to store Capital X Cell in a wallet and which wallet should you have?
If you choose the centralised path, you'll for sure have less responsibilities. When you sign up to a centralised exchange, it will create and manage your wallet on your behalf, and you can buy, store, and exchange your crypto assets thanks to an intuitive interface.
If you choose the permissionless path, things become more complex.
The CXC wallet is supported by Windows, Mac, Linus, Android and iOS, and you can download it according to the operating system you want to use by following the links provided on GitHub.
Once you set it up and create your keys and address, you'll be able to directly interact with the blockchain to make transactions.
According to CoinGecko, also Ledger, the most popular hard wallet, supports CXC.
Capital X Cell forecast for 2023
Despite the doubts that surround CXC, predictions for the future seem to be positive.
According to Price Prediction, CXC will go up in 2023 and in the next few years.
At the time of writing, the price of CXC is $0.0000036. The price should slightly rise in the first months of 2023: the average price expected is $0.0000039. The price should be quite stable until April, when the average price expected is $0.0000041.
From May 2023, the average price expected is above $0.0000042, and it could even surpass $0.0000063 by the end of the year.
Conclusion
CXC looks like a valuable and revolutionary crypto project if we consider what is stated in the whitepaper. With its focus on cooperation, decentralisation and privacy, CXC was created as a result of forks able to support intuitive, high level programming languages.
This helps the network to accomplish its final goal to create a sharing economy that allows everyone to share and collaborate in a completely decentralised and inexpensive environment.
From a financial point of view, CXC seems to fit the needs of speculators who look for risky assets that can probably lead to higher returns.
But we also want to mention that many users have doubts on this crypto project. Actually, CXC doesn't make it easy to find information and there is a lack of data on major platforms that share information about cryptocurrencies – like CoinMarketCap.
To find information, it is necessary to look at more technical data and, even in that case, it can be hard to fully understand the project.
So, it seems that there is a lack of transparency or, at least, that the project is not designed to have a wide audience – even if it states that one of its goals is improving the adoption of blockchain technology and decentralised finance.
FAQ
What is Capital X Cell – CXC crypto?
Capital X Cell – CXC crypto is a project aimed at creating a global blockchain thanks to cross-chain technology, while pursuing goals like improved cooperation among network participants, the creation of a shared cloud storage service, complete privacy and anonymity, and full decentralisation. 
Is Capital X Cell a good investment?
CXC value is expected to continue to expand, but always remember that there are risks in investing in cryptocurrencies – especially when you don't have enough information to completely evaluate the asset you want to invest in.
How much will Capital X Cell be worth in 5 years?
In five years, CXC will have a minimum price of over $0.000027 and a maximum price of about $0.000022. So, the price of CXC is expected to constantly grow in the future but, of course, tokens with such large supplies can't be expected to reach levels such $1 – it would require a too high market capitalisation. 
Despite this, if predictions are correct, CXC can be a good asset for speculators.

What is the future of Capital X Cell?
The future of CXC depends on the crypto traders and investors. You always need to make sure you're using the right strategy when it comes to investing. Capital X Cell is not made for people who don't want to own risky assets, but it can find support among speculators and traders who love risky investments.  
The goals of this token are good and in line with crypto ideology, but it's also true that not all traders and investors consider CXC a reliable crypto project. 

BWCEvent aspires to share balanced and credible details on cryptocurrency, finance, trading, and stocks. Yet, we refrain from giving financial suggestions, urging users to engage in personal research and meticulous verification.